Main Office / Locker — Base of Operations
This building is located off of Emmet Street in the Lambeth Apartment complex. Enter the front of Lambeth Commons and go to the back hallway (not through the door to the stairwell). Turn to your right and you'll see the BRMRG office. Lambeth Commons is locked in the evening and on weekends; the BRMRG office is locked at all times unless someone is there. Members needing keycard access should contact the chair of the board of directors.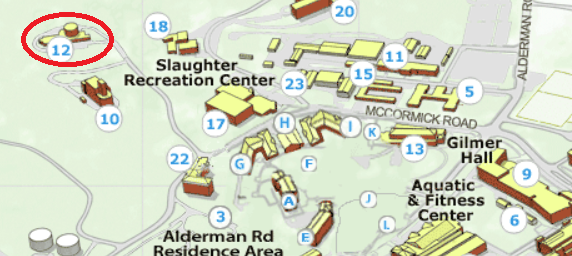 Thornton E304 — Indoor Training Location
Thornton Hall is the large engineering building adjacent to the McCormick Road bridge over Emmet Street. The E wing is the farthest south, closest to Olsson Hall and Stadium Road, and furthest from McCormick Road. There is a door to the left of the main entrance (from the courtyard) to E wing that has stairs leading straight up to the third floor, which come out very close to E304. Parking near Olsson and the stadium is free after 5pm.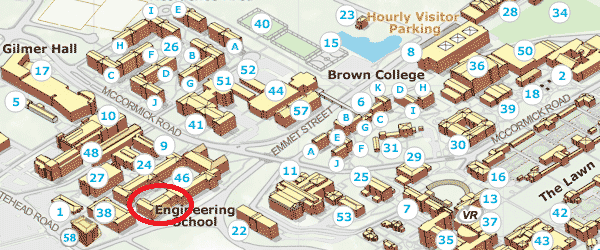 Observatory Hill — Outdoor Training Location
From UVA Grounds, take McCormick Road uphill, past the OHill dining hall, Slaughter Recreation Center, and the Watson-Webb, Balz-Dobie, and Kellogg dorms. At the crest, turn right (toward the observatory) to stay on McCormick Road and continue uphill. After the two water towers and around the bend, there is a small parking area on the left near a trailhead and entrance to the fire road. If you reach the Observatory you've gone too far!